The book is available in English, Spanish, German, Russian, French, Japanese, Polish, Italian, Chinese, Simplyfied Chineese, Portuguise, Turkish, Dutch, Vietnamese, Czech, Hungarian, Korean, Danish, Romanian, Norwegian, Estonian, Lithuanian, Latvian, Greek and Swedish.
During 2024 the book will be published in Ukrainian.
Recommendations
World-famous artists have recommended the book. Among others the Japanese acress Yuriko Ishida and the Korean boyband BTS.
Publishers all over the world and where to buy it


The English edition
Publisher: Jessica Kingsley Publishers.
Title: Highly Sensitive People in an Insensitive World: How to Create a Happy Life
June 2016
Original Danish title: Elsk dig selv – en guide for særligt sensitive og andre følsomme sjæle.
(Loving Yourself – a guide for highly sensitive people and other delicate souls)
Buy the book


The German edition
Publisher: C.H.Beck.
C.H.Beck is the leading German nonfiction publishing house.
Title: Die kraft des fühlens – Hochsensibilität erkennen und positiv gestalten.
September 2016
Buy the book here

The Japanese edition
Publisher: Discover 21.
October 2016
Buy the book here

The French edition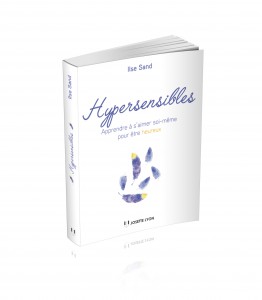 Publisher: Guy Trédaniel.
Title: Hypersensibles – Apprendre à s'aimer soi-même pour être heureux
May 2016
Buy the book here

The Danish edition

Publisher: Ammentorp
Title: Elsk dig selv – en guide for særligt sensitive og andre følsomme sjæle.
(Loving Yourself – a guide for highly sensitive people and other delicate souls)
Second edition december 2014
You can buy the book in Danish here

The Chinese edition
Publisher: Beijing Zito Books Co.
Buy the Book here
September 2017

The Taiwanese edition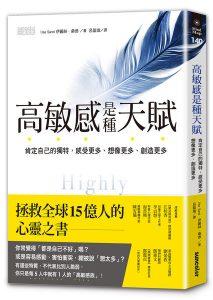 Publisher: Sun Color Culture Co., Ltd
July 2017
Buy the book here

The Estonian edition

Publisher: Pilgrim Group OÜ
February 2016
Title: Armastades iseennast
– Teejuht ülitundlikele ja teistele õrna hingega inimestele
Buy the book

The Spanish edition
Title:
AMATE A Ti MISMO
Una gu¡a para personas altamente sensibles y para gente vulnerabl
Publisher: Obelisco
Spring 2020
Buy the book here.

The Dutch edition

Publisher: Panta Rhei Publishers
June 2016
Title: "Hoogsensitiviteit in het dagelijks leven
– een gids voor hoogsensitieve personen en mensen met een gevoelige aard"
Buy the book

The Russian edition

June 2016
Publisher: Alpina Publisher
Buy it here

Turkish edition
August 2018
Publisher: Sola Unitas Academy
Title: Sevmeye Kendinden Başla
Buy it here

The Polish edition
Publisher: MT Biznes sp. z o.o.
Title: Wrażliwość: dar czy przekleństwo?
Przewodnik życiowy dla osób wyjątkowo wrażliwych i innych pięknych dusz
June 2016
Buy it here

The Italian edition
Title:
Troppo sensibile
Come fare dell'ipersensibilità la tua forza
Publisher: Erickson
Erickson is the leader in Italy on subjects such as education, psycho-educational development, rehabilitation and inclusion of people with disabilities, social work, is also a prestigious training centre in Italy.
October 2016
Buy it here

The Hungarian edition

Title: Szeresd önmagad! Útmutató szuperérzékenyekhez és más sebezhető lelkekhez
Publisher: Saxum
Buy the book here
September 2016

The Portuguise edition
Title: Ama-te a ti Mesmo – Um Guia para Quem é Hipersensitivo ou de Índole Mais Sensível.
Publisher: Editora RH
November 2016
Buy it here

The Czech edition

Title: Přecitlivělost není slabost.
Publisher: Portal
Portál is a leading Czech publishing house in the fields of psychology, psychotherapy, pedagogy, parenting, social work, guidebooks and spirituality.
Buy the book here
October 2016

The Swedish edition

Publisher: Ammentorp
Title: Älska dig själv – en guide för särskilt sensitiva och andra känsliga själar.
Second edition 2015
You can buy the book in Swedish here

The Lithuanian edition
Title: Mylėk save: vadovas jautriems žmonėms ir jausmingoms sieloms
Publisher: ZPS
Buy it here
October 2016

The Norwegian edition

Publisher: Conflux
Title: Aksepter deg selv – En veiledning for høgsensitive og andre følsomme personer.
April 2015
Buy the book here
The Latvian edition

Publisher: Zvaigzne ABC
Title: Mīli sevi! Psihoterapeita ieteikumi īpaši jūtīgiem cilvēkiem
July, 2016
Buy the book here

The Korean edition

Buy it here
Publisher: Dasan Books
February, 2017

The Greek edition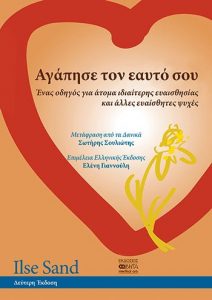 Summer 2019.
Publisher: BETA Medical Arts
Title: ΑΓΑΠΗΣΕ ΤΟΝ ΕΑΥΤΟ ΣΟΥ
Buy the book
The Romanian edition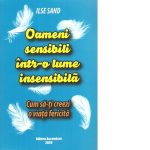 Publisher: Editura ASCENDENT
Title: Oameni sensibili intr-o lume insensibila.
Cum sa-ti creezi o viata fericita
Buy the book
Januar 2020

The Vietnamese edition
Publisher: Thaihabooks Joint Stock Company
Title: Người nhạy cảm trong thế giới vô cảmJanuary 2021.
Buy the book

The following editions are on the way but have not yet been released
The Ukrainian edition
Publisher: Alpina
More information will follow.
About the book
In the world of today it is prestigious to be strong; to have a lot of energy, a busy schedule, a large network and to be able to participate in many activities and party all night.
This book will be useful for those who, at times, feel that this ideal makes them feel flawed. It is written for highly sensitive people and other delicate souls who may be more painfully affected by their surroundings than others, but, who also have resources that they often do not realise themselves.
The book describes what it means to be delicate and sensitive, how it is experienced and how to make use of this sensitivity in positive ways in your life. It looks at how you can become better at setting boundaries and how to enjoy your aptitude for depth, intensity and presence.
At the back of the book you will find a self-test for sensitive people developed in Denmark. Also there is a list of activities which can help you promote and support your own wellbeing as a delicate soul.
The author of the book is a psychotherapist, theologist and former pastor. She herself is a highly sensitive person and has firsthand experience of feeling trapped among people who are able to live much busier lives than the highly sensitive person finds comfortable. She also knows how much joy it brings when you find ways to give space to and use your sensitive talents.
This book is also for psychotherapists, psychologists and other counsellors – as well as for relatives and friends of highly sensitive people.
Review of the book from the Danish magazine Psychology:
Are you tired of other people telling you not to take your life so seriously?
If you belong to the group of highly sensitive people, then it is actually okay to take things seriously. The book "Loving Yourself – a guide for highly sensitive people and other delicate souls" gives good concrete suggestions on how to look after your sensitivity in everyday life.
The message is, among other things that it is all right to live life slowly and insist on presence and depth – you do not have to excel, make an impact and always give a power performance.
Ilse Sand is herself a highly sensitive person and her points seem credible and relevant. A fine little easy-to-read book that can be an eye-opener and a helping hand for sensitive souls.
The magazine Psychology (Se the original version of the review in Danish here)
Read a review of the book on Goodreads